The 80:20 rule, equally well known as the Pareto principle, is widely used and abused in business, but how does it apply to marketing and digital marketing? In this post I review some marketing applications.
Wikipedia tells us that the Pareto principle is named after Italian economist Vilfredo Pareto, who noted in 1906 that 80% of the land in Italy was owned by 20% of the population. Apparently Pareto developed what would later be known as his principle by observing that 20% of the pea pods in his garden contained 80% of the peas! Although there is some doubt whether he mentioned the 80:20 principle as such, it is known formally known as a specific power law distribution and named as a Pareto distribution based on an analysis in the 1940s of production quality / flaws by consultant Joseph M. Juran.
Applying the Pareto's principle to marketing
I'm sure you're familiar with these examples of applying Pareto's principle in marketing:
80% of profits come from 20% of customers
80% of product sales from 20% of products
80% of sales from 20% of advertising
80% of customer complaints from 20% of customers
80% of sales from 20% of the sales team
While the exact proportion will naturally vary, I'm sure you've seen that broadly speaking, the majority of outcomes you're looking to achieve (or avoid in the case of complaints) are prompted by a disproportionately small input or effort.
Given this, regardless of its accuracy in individual situations, Pareto's principle is useful in managing marketing to prompt us to think where we should put our focus. We can generalise that:
20% of inputs creates 80% of the outputs
20% of effort leads to 80% of the results
20% of causes lead to 80% of the consequences
This disproportionate pattern of effort to reward has been simply summarised by programmer Daniel Brown.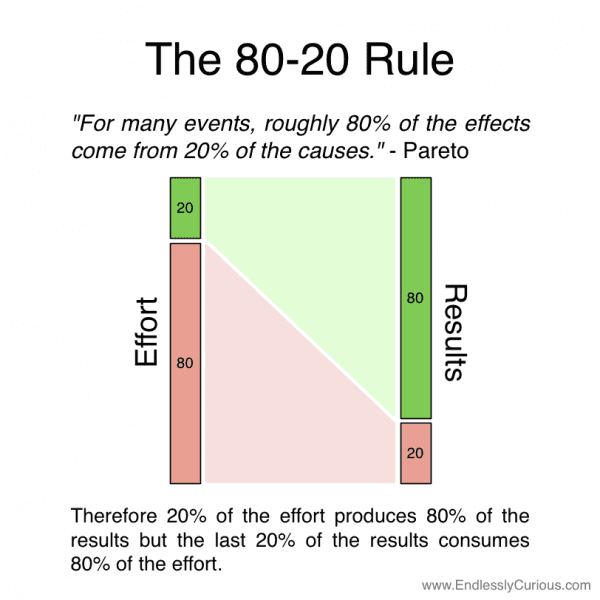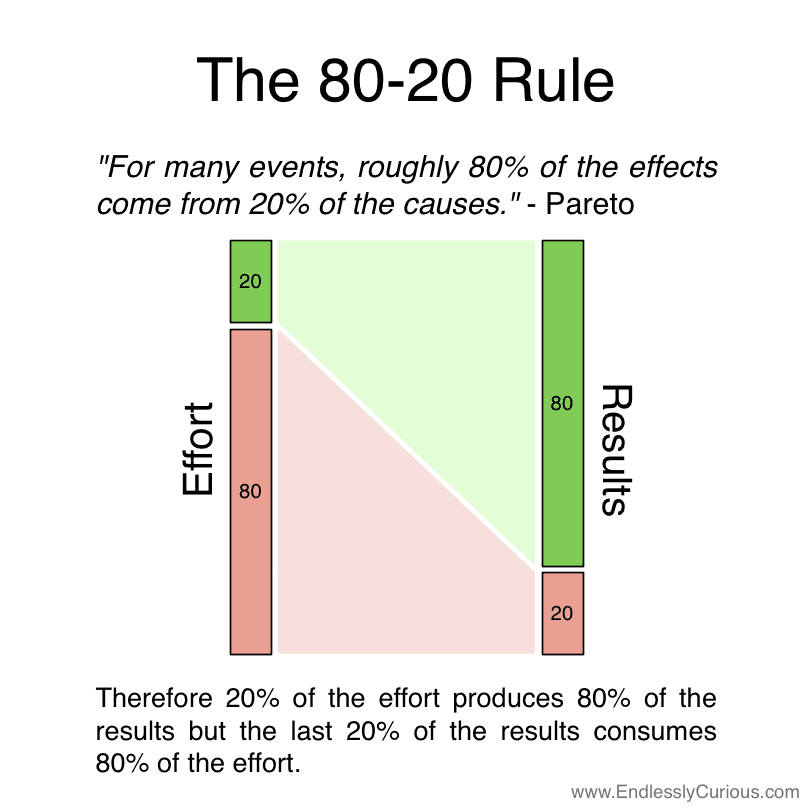 So at a simple level, the Pareto principle should remind us about our time management when managing marketing. We should focus our time on our main customer segments, most popular products and the biggest causes of customer dissatisfaction. Beyond this it should prompt us to determine WHY this is the case? Techniques such as Cause-effect or Ishikawa analysis can be applied to review why errors are occurring in a process or how processes which drive sales can be made more efficient. This MyCustomer.com article has further ideas for 80:20 analysis of customers.
The 80:20 rule in digital marketing?
What of digital marketing? Naturally online prompted sales and leads will follow a similar pattern to those above, but we can identify some specific patterns. In my experience we can say:
80% of online sales are from 20% of products
80% of search visits are from 20% of the keywords (often from brand-terms rather than generic)
80% of leads in content marketing are from 20% of the content assets
% 80% of user tasks are performed on 20% of links offered (called the long-neck by Gerry McGovern)
80% of social shares are from 20% of the social updates
Online, these patterns are often known as the long tail distribution with regards to product sales and keywords which I will explore a little more in a future post. The implications are again obvious. Look at your current online marketing activity and identify and then focus your attention on the 80% of your content and products which drives the majority of your online leads, sales or engagement! What changes can you make to optimise copy, visuals and calls-to-action as part of conversion rate optimisation (CRO) to increase these outcomes more.
Alternatively, look at the pattern in the marketplace more widely and reviewing consumer behaviour and competitor activity, find out where you're not tapping into the demand for example using a gap analysis of consumer search intent or reviewing the popularity of social sharing for content.
So, the Pareto principle is a useful tool to help us to think differently about improving our online marketing. How do you use it? Do you have other rules or perhaps you have found it can be dangerous since it doesn't hold true in some situations?
Guest Post By Dave Chaffey
Digital strategist Dr Dave Chaffey is co-founder and Content Director of online marketing training platform and publisher Smart Insights. Dave is editor of the 100+ templates, ebooks and courses in the digital marketing resource library created by our team of 25+ digital marketing experts. Dave is a keynote speaker, trainer and consultant who is author of 5 bestselling books on digital marketing including Digital Marketing Excellence and Digital Marketing: Strategy, Implementation and Practice. My personal site, DaveChaffey.com, lists my latest Digital marketing and E-commerce books and support materials including a digital marketing glossary. In 2004 he was recognised by the Chartered Institute of Marketing as one of 50 marketing 'gurus' worldwide who have helped shape the future of marketing.